A few days ago I took ownership of David Laws' account of the negotiations following from the 2010 General Election result. It's a fascinating read (I'm about 1/3 of the way through) and I'd recommend people add it to their lists. My favourite exchange between the negotiating parties is one I hadn't seen in most other reviews of the account. I hope the publishers don't mind if I reproduce the following section (p117-118):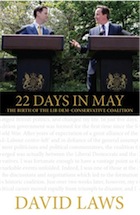 "We paused briefly to consider the issue of what we should say about Britain joining the euro. 'It will not surprise you to know that we are opposed to this," said George Osborne. Chris Huhne, a former MEP and euro enthusiast smiled, and said, 'Well. We have met none of the criteria for convergence, so this is not really an issue.' I shouted out 'Hurrah!', as I have never been a big fan of Britain joining the euro, and have never thought that there was the slightest chance of the British people supporting the euro in a referendum. Andrew Stunell lent forward and said to the Conservative team: 'I hope you realise that this is a very big Lib Dem concession!' We all laughed."
Some other interesting parts include some of the lessons learned from Coalition negotiating strategy in Scotland, with David Laws having been involved in the 1999 talks. It was a curious contrast of Labour's strategy in those talks, where they faced deadlock for about 4 days on a number of key policy differences before relenting, as opposed to desperately scrambling towards Lib Dem positions without the credibility of numbers in the lobby to back them in 2010. What was more intriguing was the way the impasse over the AV referendum was dealt with; being referred up to Cameron and Clegg to discuss so as not to compromise progress on other policy negotiations.