Another multi-subject update seems in order. News in various places since I last posted.
First up, I've got my first 2 of 4 exams in this diet out the way. International Politics at the end of April should have gone fine and Commercial Law just yesterday seemed not to be too bad a paper. Just Business Organisations next Saturday then Property Law on the Wednesday and I'm off for the summer! Not a moment too soon frankly!
Then there's the various elections from a few days ago. Sadly, as predicted, the Yes2AV campaign was comprehensively defeated. It's sad, really, because the No campaign's propaganda and lies (even David Blunkett admitted they just drew up the figures for the "extra cost" on the back of a fag packet) really seemed to penetrate to most of the electorate. It speaks volumes that some of the few areas to vote in favour of AV were areas you might regard as having a significant "intelligentsia" population. Glasgow Kelvin, if my memory serves, was the only area to vote for AV in Scotland.
As for the main event, the Scottish Parliamentary elections, I've got mixed feelings. As a relatively new member of the Lib Dem, I knew this was going to be a pretty tough campaign, but the scale of the decimation (sometimes literally) of the Lib Dem vote in some constituencies was pretty galling. 5 seats left, Tavish Scott's resigned and everyone's a bit scunnered. A small crumb of comfort, perhaps, but at least we held enough seats to stay clear of the Greens and although a lot of deposits have been lost, I can't see the vote falling much, if any further. Time to rebuild for the Council elections next May.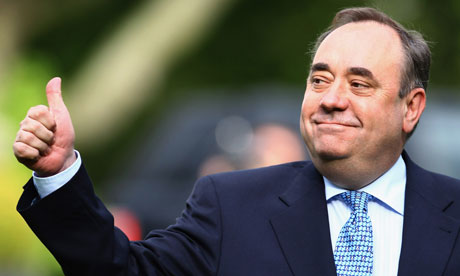 As for the SNP though, I've got to say they have had a staggeringly good campaign. They outflanked Labour wherever Labour didn't manage to outflank themselves and had an unremittingly positive campaign, really catching the mood of the electorate. To see seats in Glasgow and South Lanarkshire fall from Labour's grasp is a truly historic moment. Scottish voters are finally waking up to the idea that Labour aren't the be all and end all of politics. Once they can abandon them once, they can do it again. It will be very interesting to see the dynamics of an SNP majority administration. Uncharted waters for both the Scottish Parliament and the Scottish people: we live in interesting times.
Anyway enough of politics. Back to what really matters: football!
Because of the University of Glasgow's propensity for organising idiotic exam timetables, I was unfortunate in that I missed the final game of the season at Firhill, with my big team and my wee team playing each other (Raith Rovers visiting). By the sounds of it I missed a cracker. Tommy Stewart, who looks like quite a good find now he's had a run of games, Doolan (joint top First Division scorer) and David Rowson all got on the scoresheet and by the sounds of it Rowson's goal was an absolute beezer. I really hope Rowson gets signed up for next season as he is just such a warrior in the red and yellow. He's been through a difficult few days with his father passing away and his goal must have been a very emotional moment for him.
A very upbeat result brings to an end a somewhat mixed season. It certainly started very badly, but things picked up late 2010 and I read somewhere that we have the best defensive record at home in Britain. Jackie McNamara's few games in charge have been on the whole pretty positive and should he get the manager's gig on a permanent basis I hope he can put some entertaining football on the park. It's particularly pleasing to see how keen he's been to bring the youngsters into the fold, albeit his hand has been forced by squad injuries.
We've done a fair bit of
Jagscast
recording over the last wee while, including our End of Season review, a few John Lambie Hall of Fame inductions and Manly J Panda even got an interview with Jaggie Mac. I wanted him to ask how he'd vote in the AV referendum but the Panda wanted to focus on dull stuff like football and whether he was more of a grey suit and brown brogues or trackies sort of gaffer. The cast is good fun and hopefully next season we'll be back on iTunes so more people can listen in routinely. Quick thanks to Vinny and Panda's parents for the excellent home made pizza when we did our end of season recording at their gaffe.
What's left... mum's in hospital again for a bit. She's been long overdue some time off work. When I was up over the holidays she was running on empty but, in her usual way, adamant that she'd get the Easter stuff done before resting for a while. Hopefully it won't be long before she's back to her good old moany self!
Dad's finally finished re-assembling an MGB of an MG Owners' Club acquaintance in his garage, so he's got room to put his MGB GT back in. I heard he took it out for a drive a few days ago, only for the fuel pump to pack in when he was in the middle of rush-hour traffic. This wouldn't have been a problem, but he had no phone, no tools, and no breakdown cover information. Kay had to call a friend to help tow dad clear. He's since bought a solid-state replacement fuel pump which should, he claims confidently, never need replacing! Where have I heard that one before...
I'm still on the look-out for an MG to call my own. It's slightly on the backburner for a bit while I look to see what work I can get over the summer. Just have to wait and see.
That's all for now. A couple of days of dossing about now before I have to crank things up again for the next exams!